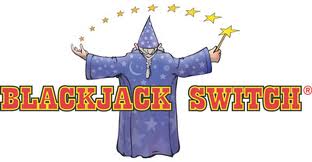 Blackjack Switch is one of the most popular blackjack variations to ever land in casinos. The game has become so popular that you can even play Blackjack Switch at some online casinos. Even if you've never played this version of blackjack you may be familiar with blackjack switch from its iconic wizard logo.
This variation of blackjack might be so popular because the minimum bet is often the same as carnival games like 3 Card Poker. The minimum wager for these games is typically lower than you'll find at blackjack tables. The amount can sometimes be confusing at face value since Blackjack Switch requires two equal wagers per game. When the wagers are added together they may still be lower than the minimum bet for a traditional blackjack game.
Two wagers are required since each player is dealt two hands. All cards are dealt face up from a six or eight deck shoe. The next twist in this blackjack variant is that the player may switch a card from one hand to the other. The switch card must be the top card (2nd dealt). The bottom card (1st dealt) may not be switched. Players may double down on any two cards and double down after splitting. However, resplits are not allowed. One other rule in the player's favor is that the dealer will hit on soft 17.
That sounds great but don't get too excited. Not all twists in this game are in favor of the player. Blackjack only pays even money. When the dealer has 22 it's a push against all non-busted hand. Additionally, blackjack is only paid even money. Once cards are switched the player cannot have blackjack. A player only has 21 if a card with a value of 10 is switched onto a hand with an Ace.
Basic Strategy for Blackjack Switch is slightly different than traditional blackjack. Here's a basic strategy card from the creator of Blackjack Switch.

Depending on the rules of the traditional game, Blackjack Switch could actually have the smallest house edge of any blackjack game in the casino. According to the Wizard Of Odds, the house edge is 0.58% when played with perfect strategy. That's quite a bit better than the 2%+ house edge you'll find at the casinos with the worst house edge in Las Vegas.
Like most blackjack games today there is a side bet available for blackjack switch. The Super Match side bet based on the player's initial four cards. The pay table for the side bet is below. The house edge on the side bet of 2.55%.
Pair – 1:1
3 Of A Kind – 5:1
Two Pair – 8:1
4 Of A Kind – 40:1
Blackjack Switch can be a fun game and a good lower limits option when visiting a luxury casino-resort. The first time I played this game was at Wynn Las Vegas. The minimum bet for blackjack was $25 or more. Blackjack Switch was $5 per hand ($10 per game) so my friends and I gave it a whirl. We had a blast and some walked away with enough money to spend at the traditional blackjack tables later that night.
The game is different enough to feel like a low limits carny game. However, the play is close enough to traditional blackjack that fans of the game might enjoy this version.