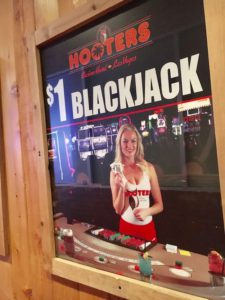 One of the most popular questions about blackjack is where to find the cheapest game. In Las Vegas, the lowest blackjack wager that you'll find for blackjack is $1. You'll find this low minimum game just off the Vegas Strip. Hooters Casino is the home of the cheapest blackjack game in Las Vegas.
The casino is across the street from MGM Grand and next door to the Tropicana. Hooters Casino, formerly San Remo, is dealing a $1 blackjack game all day and night. There's just one table that deals this game. You will almost always a wait to get a seat for the $1 blackjack game despite one rule that serious blackjack players would typically avoid. The catch with the $1 game is that it pays even money when a player is dealt a natural blackjack.
It's rare to see a traditional blackjack game that pays 1:1 anywhere in the country. This payout is worse than the 6:5 blackjack games that you'll find for most lower limits games on the Vegas Strip. The right to play a $1 blackjack game comes with a house edge for the casino of nearly 3% when played with perfect basic strategy. The house edge in this game is probably somewhere between 5% and 10%. The house edge might be even greater since many players don't seem consumed with perfect play.
Guests playing this $1 blackjack game at Hooters casino don't seem to mind the large house edge. Blackjack is a social game for many gamblers. You, obviously, won't find advanced players at a $1 blackjack game. The drinks come quickly and that seems to more important for just about every player.
Despite 6:5 blackjack being spread at so many casinos on the Vegas Strip there are plenty of good cheap blackjack games around town. Those blackjack games all have minimum bets of at least $5. This $1 blackjack game is definitely the cheapest blackjack game you'll find in Las Vegas.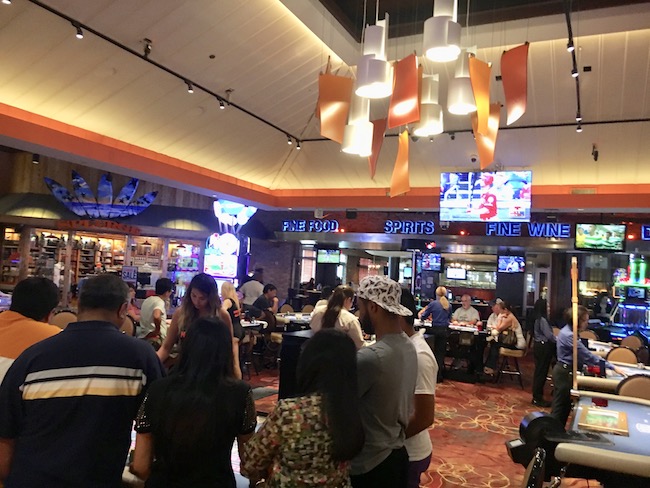 The New Hooters Casino
Hooters Casino recently saw a renovation of the entire property. The casino floor has a fresh and open feel to it. The setup of the gaming area is spacious and Hooters now has a good selection of table games and new slot machines.
This is sort of an entry-level casino with affordable table limits but it offers a lot. The sportsbook has plenty of new TV screens, ample seating, and a bar with beer pong. There is an indoor/outdoor poolside bar that is full of fun with tabletop and bar games. This is a good place to hang for cheap drinks and is something to do besides gambling. Of course, the main restaurant here is a massive Hooters.
The renovations to the property make Hooters a legitimate option for low rollers. The property is near the action, has relatively inexpensive rooms and low gambling limits. It the even money $1 blackjack isn't your thing, you can play a better for a $5 or $10 minimum bet.