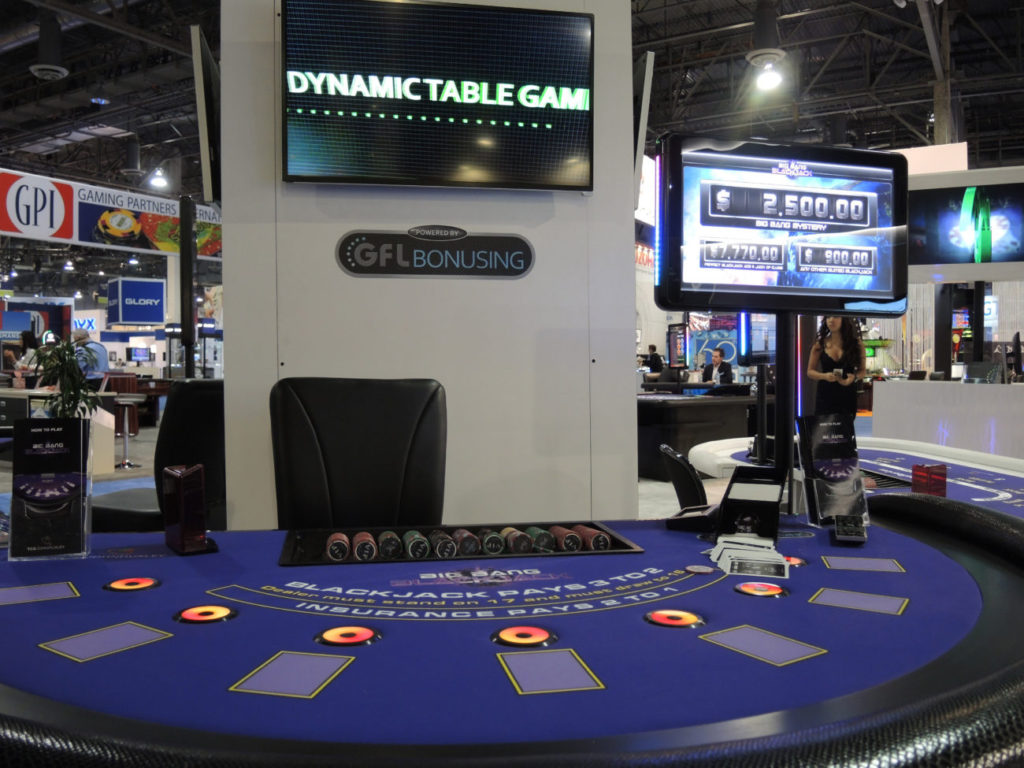 Las Vegas recently hosted the Global Gaming Expo (G2E) at The Venetian. The annual meeting of the casino and gaming industry was packed full of information and new casino games. Unfortunately, there isn't too much innovation coming to casinos for blackjack players.
New Blackjack Games
We'll see more "Bust on 22" games like U Turn Blackjack and Vegas Blackjack Fever that we've already previewed for you. The won't be too many, if any, new blackjack games in casinos besides new variations from large gaming manufacturers. We'll certainly share new blackjack variants when we hear about the games hitting casinos.
Electronic Table Games
Gaming manufacturers continue to push electronic table game (ETG) versions of blackjack and other table games. Meanwhile, the manufacturers seem slightly less focused on creating new large Stadium Blackjack installations.
Blackjack ETG's aren't new and It's taken a while for them to catch on. It seems like we're finally at a point where these games have found their place in some casinos. The electronic blackjack games have become very popular in Las Vegas because of their price point.
The popularity of ETG's isn't the same at every casino around the country. There's a very specific reason they are working in Las Vegas. Blackjack ETG's almost always have a lower minimum wager than games with dealers. This perceived value is sending guests, young and old, to the machines.
It's becoming more difficult for low rollers on the Vegas Strip to find games they can comfortably afford. The minimum bet at a blackjack ETG in Las Vegas is often $5. The games with dealers usually have a minimum bet of $10 or $15 on the weekend. That's a big difference at first glance.
The value is only perceived because casinos in Las Vegas use these low limit games to move the odds further in their favor. Many blackjack ETG's on the Vegas Strip pay 1:1 when a player is dealt a natural blackjack. The value of 1:1 blackjack doesn't exist as the house edge jumps drastically.
More Side Bets
The trend of more side bets for blackjack games will continue. Plenty of gaming manufacturers are offering new and different side bets. Casinos can only tweak blackjack rules so much before players simply stop playing. Side bets allow casinos to potentially increase their house edge without changing the rules of the basic game.
Side bets are usually optional and come with a high house edge for the casino. Some blackjack players enjoy these bets because they add a bit more intrigue to a fairly boring base game.
On a recent visit to a casino, my friend crushed the 21+3 side bet repeatedly. Meanwhile the base 3:2 blackjack game wasn't so kind to any of the players. Recreational players tend to remember the big wins and not the smaller losses. The chance at big wins in addition to the normal fun of blackjack can be enticing.
One of the most popular new blackjack side bets seems to be multi-level progressives. You can currently play the Blazing 777 progressive at some casinos. At G2E, TCSJOHNHUXLEY introduced Big Bang Blackjack to the masses. This is a new progressive side bet that gives players a chance to win one of three incremental progressive jackpots.
Side bets are typically not good for bettors. Progressives might be even worse for blackjack players. TCSJOHNHUXLEY says their first installation of this game in a casino is showing growth on drop (amount of money from people buying into the game) of 39% and growth on win (amount of money the casino wins) is 193%.
The finances show that people enjoy playing side bets and casinos enjoy the money generated from side bets. Expect to see more of these as casino operators try to extract more money from recreational blackjack players.