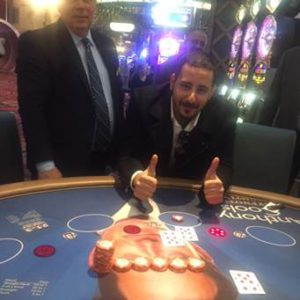 Blackjack players over the years have been mellow and cerebral gamblers. Players are usually looking to minimize the house edge to have a better chance at winning or to play longer.
Frankly, serious gamblers have always been looking for a way to maximize the chance to win in most games. Casino gambling today is different.
It seems as though gambling in a casino is all about winning big. Grinding out a solid win is passe. Casino games are almost becoming a new form of the lottery. Guests can place small bets in order to win jackpots that range from a good weekend to life-changing.
Blackjack players have been slow to change from the grind it out style on a game with a low house edge. The new side bets are most popular at carnival games like 3 Card Poker and Let It Ride.
Well, it seems as if blackjack players are slowly opening their mind to jackpot hunting while playing their favorite game.
Progressive Blackjack Bets
Progressive jackpots aren't new but they've become much more popular with both casinos and gamblers over the past couple of years. In fact, Caesars Entertainment added more than two hundred progressives to their Pai Gow, 3 Card Poker and Blackjack games in Las Vegas last year. They now have 245 table games with progressive jackpots. This is the largest linked progressive table game network in Las Vegas.
Most blackjack side bets have a limited prize available. Some of the bets pay as little as even money for a $1 wager. Winning that dollar for the chance to win much more is exciting for some blackjack players.
Regular side bets are nothing progressive jackpots in blackjack. These jackpots can be huge. Late last year, Elhara Shai (shown above) won $1,013,733.71 playing a progressive blackjack game at Paris Las Vegas.
He won the huge jackpot playing the $5 Blazing 7's side bet. We first told you about this new side bet when a Blazing 7's lounge debuted last year at San Manuel Casino. Blazing 7's Blackjack, pays out a jackpot whenever three seven of diamonds are dealt out to a player.
Caesars Las Vegas Progressive Games
Progressive jackpots and side bets aren't for everyone. However, they might be the most popular addition to casino games over the past year. Just about every casino has progressive side bets.
The progressive jackpots grow as players bet that they'll get the special hand that pays the big bucks. Caesars Entertainment's jackpots in Las Vegas standout because of the size of the network and amount that must be wagered to qualify.
Caesars Entertainment now has 245 progressive tables spread out over all nine of their casinos in Las Vegas:
Bally's Las Vegas
Caesars Palace
The Cromwell
Flamingo Las Vegas
Harrah's Las Vegas
The LINQ
Paris Las Vegas
Planet Hollywood
Rio
Caesars Entertainment casinos should have some of the highest progressive jackpots in Las Vegas. Players must wager $5 on each hand in order to qualify for the progressive jackpots. Most casino chains in Las Vegas are smaller or only require a $1 wager for their progressive jackpots.
The less money played on progressives, the less money the jackpot will pay. Caesars Las Vegas progressive jackpots should dwarf the competition. These may not be the sharpest bet in blackjack but the big win can be fun.