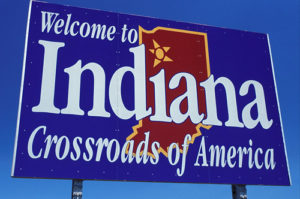 This is a busy month for gamblers in Indiana. This year, sports betting became legal in Indiana on September 1. There are sportsbooks are opening throughout the state. However, there's more gambling coming to the Hoosier state.
Next year blackjack will be available in more locations thanks to House Bill 1051 (click more to see entire document). The last sentence of the Bill states that "the IGC shall approve wagering on table games at a racino beginning January 1, 2020."
Caesars Entertainment operates two such racinos in Indiana – Harrah's Hoosier Park in Anderson, IN and Indiana Grand in Shelbyville, IN. It didn't take them long to act. They're already training and hiring prospective dealers at mydealercareer.com.
Racino Blackjack In Indiana
Racinos are horse racing tracks that also have casinos. These casinos don't currently offer live dealer table games. Guests can currently play E-Table blackjack games at Harrah's Hoosier Park and Indiana Grand.
Video blackjack games are available to guests 24 hours a day. These games have a $5 minimum wager and feature the Royal Match bet. This side bet pays anywhere from even money to 25x. The even-money bonus is if the first two cards are of the same suit. The 25x Royal Match bonus is paid for a suited king and queen.
Digi Deal tables have a virtual blackjack game with a human dealer for guests to interact with. Here's a demo video if you're not from a state with a racino and have never seen this kind of blackjack game.
The Digi Deal tables are a hybrid of video blackjack and live dealer blackjack. The dealer is at the table essentially to hit the buttons for the player. Blackjack players that are used to playing live blackjack might prefer this to playing blackjack directly with a machine.
Players signal the dealer if they want another card in Digi Deal blackjack. Instead of dealing a physical card, the dealer will hit a button to deal the next card. Blackjack rules are similar to traditional blackjack games. A player may hit, stand, double, split and take insurance just like a regular blackjack game.
Indiana Casinos
Casinos in Indiana were once only allowed to exist on riverboats at the Ohio River and Lake Michigan. Land-based casinos are now allowed throughout the state. Soon even the racinos in Indiana will have live dealer blackjack. There are currently 14 casinos around the state:
Ameristar East Chicago
Belterra Casino
Blue Chip Casino
Four Winds South Bend
French Lick Resort
Harrah's Hoosier Park
Horseshoe Southern Indiana
Horseshoe Hammond
Hollywood Casino
Indiana Grand
Majestic Star Casino
Majestic Star II
Rising Star Casino
Tropicana Evansville