Casinos across the country are closed right now in an effort to slow the spreading of COVID-19 (Coronavirus). There's a lot to consider about returning to a casino when we're no longer under quarantine. Will you immediately sit down at the first blackjack game you can find? Will you sit at a crowded blackjack table? Will you social distance yourself from other players?
Duo Blackjack Lounge
In 2017, Mohegan Sun in Connecticut added a new blackjack area called the Duo Blackjack Lounge. The gaming lounge featured plush double benches at the blackjack tables. This new gaming setup would allow friends and couples to share a large bench seat to create a different environment. This part of the casino also had a DJ dropping dope beats while a bartender would make tableside craft cocktails.
The idea was to create a social atmosphere near the Mist Nightclub. The Duo Blackjack Lounge would be a place to hang with the bros or with a significant other before or after the club. Looking back this could have been a glimpse into the future of playing blackjack in a casino.
Social Distancing Blackjack
Before Las Vegas casinos closed, some were offering socially distanced games. Casinos on the Vegas Strip turned off every other slot machine. This would allow players to enjoy their favorite machine with a few feet of distance to the next person.
Social distancing at table games was similar. Every other chair was removed. I took the photo above at Red Rock Casino on the last day of operations before Governor Steve Sisolak ordered casinos and non-essential businesses to close for 30 days.
There were only a handful of blackjack tables open at the time. Each table had only three chairs set up. Only one of those tables had two players. My visit was around noon on a day where many people in America started to avoid contact with other people.
The casino probably could have had all the seats at the table and people would have socially distanced themselves anyway. This got me thinking about how people would approach playing blackjack when casinos re-open.
Playing Casino Blackjack In The Future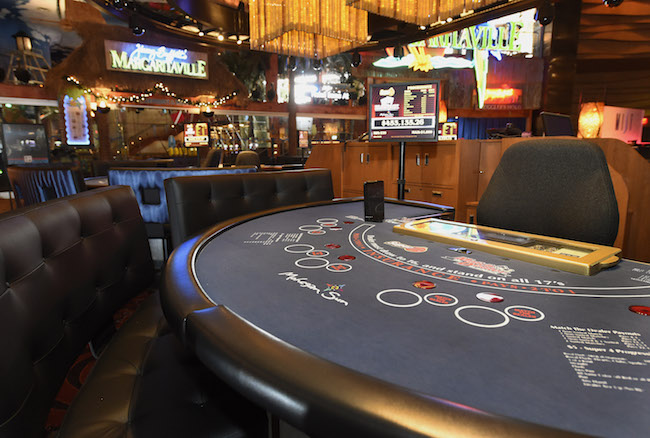 Maybe it's too early to be thinking about casinos re-opening. It's definitely too early to think about playing blackjack in a casino again but the mind races when you're in quarantine.
Casino operators will be using this downtime to reassess how they do business. It appears as though Caesars is planning to expand automation in its casinos. The process is already underway but they might be looking for more ways to optimize their operations.
When it comes to gaming will casino operators open with blackjack tables that have seating for five to seven people? Sure more seats equal more money but will players be comfortable sitting close to each other?
Will the Duo Blackjack seats pop up in more casinos? It's not likely casinos will be in a position to buy new seats after being closed for at least 30 days. However, the larger seats could promote social distancing if only one person is allowed at each seat when reopening.
In the future perhaps the casinos allow more than one person per bench. Likewise, they could also open with three chairs and add chairs as more people return. The future of casino gambling is unknown but I'm already thinking about life after quarantine. This is one of many things on my mind about the future of casinos.