Last week we took a look at the Mohegan Sun Casino at Virgin Hotels Las Vegas. The renovated and reimagined casino being built using the bones of the Hard Rock should open later this year. This week we're going to preview another Las Vegas casino that's still under construction.
Let's fast forward to next summer and preview Resorts World Las Vegas. The casino-resort that's being built across the street from Wynn and Encore has been under construction for more than a decade when it was owned by Boyd Gaming and called Echelon.
Moving ahead, there was a groundbreaking for Resorts World Las Vegas in 2015. Construction progress has been slow but has really picked up last year. Resorts World Las Vegas appears on target to open in the summer of 2021.
Amenity Rich Resorts World Las Vegas

Resorts World Las Vegas will be an amenity-rich project. Even though plans have been scaled back since its inception, this is still a large property. The $4.3 billion luxury resort-casino will include amenities such as a 5,000-capacity state-of-the-art theater, 110,000 square foot casino, a huge pool complex, and a massive 75,000-square-foot nightlife and day-life concept.
Resorts World Las Vegas has two hotel towers with 3,5000 rooms including luxury suites, villas, and penthouses with individual lobby experiences, open balconies, and a sky casino. The property will feature three different Hilton Hotels brands – LXR, Conrad, and Hilton.
Visitors to Las Vegas can already see the 100,000-square-foot West Tower LED screen light up the night on occasion as it's tested. There will also be a 50-foot diameter video globe which will display over 6,000 square feet of captivating LED content
Resorts World Las Vegas Casino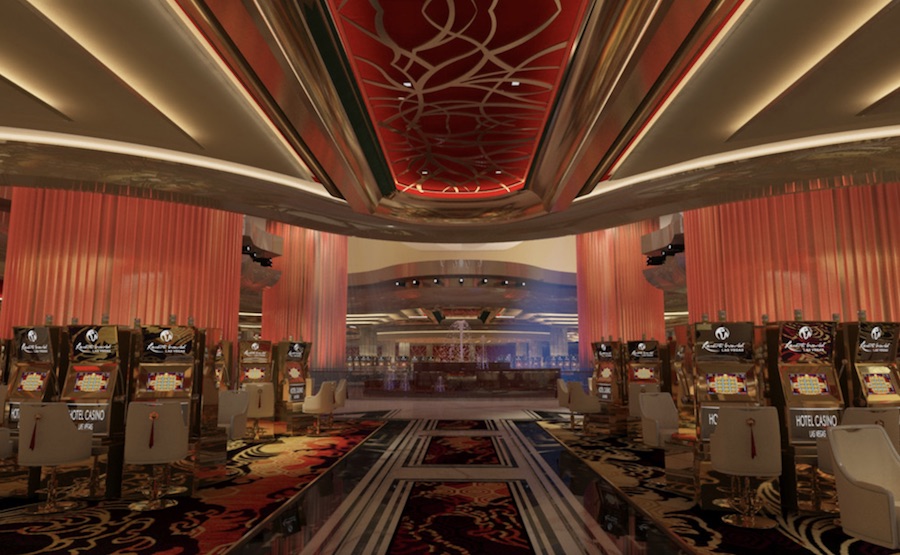 Plans have changed drastically over the years. The rendering above is from 2015 and no longer on the Resorts World gallery. However, we do know that Resorts World Las Vegas will have a 110,000 square foot casino floor. For comparison that almost twice as large as Virgin Las Vegas and about the same size as Circus Circus and Paris Las Vegas.
The "next-generation casino" will have slot machines, table games, high-limit gaming areas, private gaming salons, a dedicated poker room, and a 14,000-square-foot Entertainment Zone, which includes a race and sportsbook and feature live entertainment.
Resorts World is about a year from opening and hasn't revealed specifics about the gaming conditions. However, that won't stop us from speculating based on the history of the executives.
Scott Sibella is the president of Resorts World Las Vegas and appears to be the chief spokesperson for the media. Previously, he was the president and chief operating officer of MGM Grand.
MGM Resorts properties in Las Vegas famously offer more 6:5 blackjack than most other casinos in Sin City. Having said that, the company offers some very good blackjack games in its High Limits rooms.
While nothing is set yet, it's possible Resorts World Las Vegas will offer similar blackjack rules. High rollers might see games with a low house edge. Low rollers could only have 6:5 blackjack with a higher house edge.
This would be in line with many Vegas Strip casinos that offer similar blackjack games. Across the street, Wynn and Encore only offer 6:5 blackjack games to low rollers. The High Limit rooms offer blackjack games with better rules.
Resorts World Las Vegas sounds like it will be a place to visit when it opens next year. We'll keep an eye on blackjack conditions as the opening date gets closer.