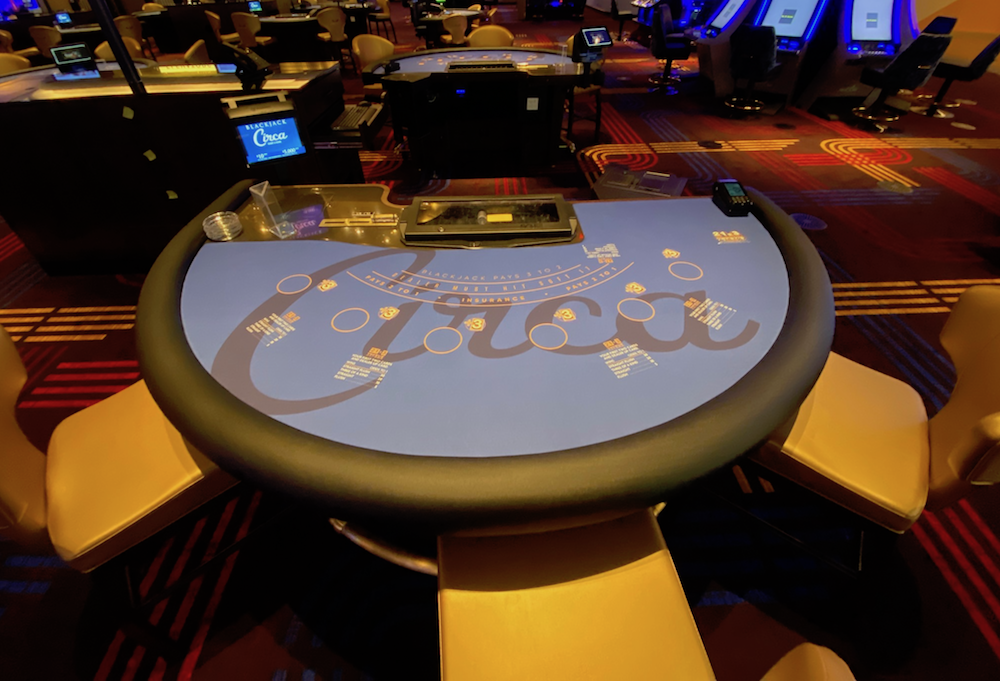 Circa Resort and Casino recently opened to the public. Actually, the casino floor and most of the amenities at the property are now accessible to guests. The hotel will open in late December.
Circa is the brainchild of Derek Stevens – the owner of The D Las Vegas and Golden Gate casinos. This is the first new casino built in downtown Las Vegas since 1980 and its gaming conditions are similar to Stevens' other properties.
Overall, the property is as stunning as you'd imagine a new casino would be. The highlights are definitely the massive sportsbook and Stadium Swim pool complex. Both are unlike any in Las Vegas. Much like Stevens' other Las Vegas casinos, Circa is made for gamblers.
Circa Blackjack
Circa has a total of 16 blackjack games on the main two casino floors. The first floor of the casino has 11 blackjack games. The traditional live dealer blackjack games on the main casino floor are 6 or 8 decks and dealt from a shoe.
The second floor has another five blackjack tables. All blackjack games dealt from a show inside the casino except one pay 3:2 when a player is dealt a natural blackjack.
Lastly, there are 195 electronic blackjack stations at Circa. There is a total of 18 electronic table games and 138 bar top games at Circa. The former includes at least one stadium gaming section between the north entrance on Fremont Street and the Stadium Swim pool complex.
There's one single deck blackjack game inside Circa that pays 6:5 when a player is dealt a blackjack. The amazing Stadium Swim pool complex has a handful of table games. These blackjack games also pay 6:5 when a player is dealt a 21.
The best blackjack games at Circa are in the High Limits gaming room. Guests will find this room tucked away in a corner of the second floor. This room has another six blackjack games. Each game has six decks dealt from a shoe and the dealer stands on all 17's. According to Vegas Advantage, these are the only blackjack games in downtown Las Vegas where dealers don't hit on soft 17.
More gambling at Circa
Circa has a two-level casino floor with accessible views of the "World's Largest Sportsbook." There's limited gaming available on a third level. The massive Stadium Swim rooftop pool complex also has a small gaming area. As previously mentioned, these games pay 6:5 when a player is dealt a blackjack.
Unlike Stevens' other properties, Circa does not offer 10x odds on craps. The odds for dice at Circa are the traditional 3x-4x-5x odds you see at most casinos on the Vegas Strip. I recommend playing the fantastic 10x craps game at Golden Gate anyway. This is just a great atmosphere to roll the bones.
According to vpFREE2 there's plenty of good video poker. The games aren't the best but there are numerous options for the quarter and 50 cent players that have returns of 98.49% or better. Bonus for drinkers – many of these games are bartop machines. Strange that none of these games are in the high limits room.
Circa also offers cashless gaming at its table games. There's a fee for the service if you need more chips and don't feel like walking to an ATM.