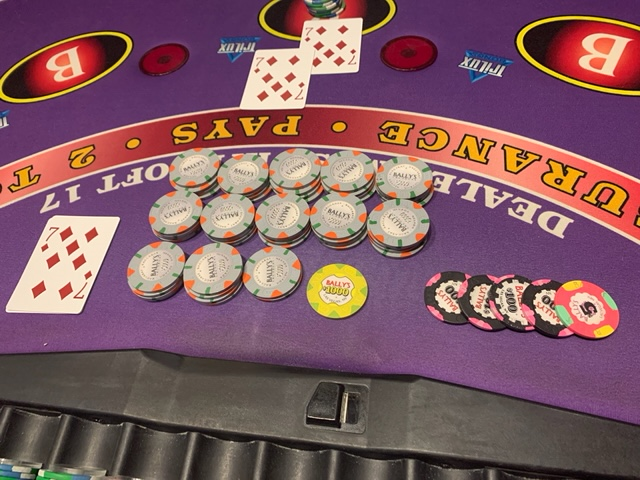 On Friday evening, Oct. 30, a Caesars Rewards member from California hit a mega jackpot on Blazing 7's for $251,404 at Bally's Las Vegas. The winner chose not to be identified but we have a sweet picture of all the chips he won from the blackjack side bet. The player told representatives for Caesars Entertainment, current owners of Bally's, that he was in town for a birthday party.
After hours of playing blackjack at Bally's, he finally hit the Blazing 7's progressive jackpot. The player told Caesars that he believes his wife is his good luck charm. In a statement from Caesars, we're told that the player plans to treat himself by spending the winnings on a new car.
The Blazing 7's blackjack side bet seems to hit as frequently as all other side bets at Caesars Las Vegas properties. Side bets typically come with a large house edge and most experienced players tend to stay away.
That said, big jackpots are fun, and people like winning a lot of money for a little at risk. In the short term, this sounds fine. Over time, this attitude often shows its colors and the vast majority of players will lose money on these bets. I guess that's Vegas baby!
Let's take a closer look at the Blazing 7's bet.
Blazing 7's side bet
Blazing 7's is a blackjack side bet from Scientific Gaming (owner of the original IP holder of Blazing 7's, Bally Gaming). This promotional video for casinos does a good job explaining the basics of Blazing 7's.
Simply put, Blazing 7's is a blackjack side bet that pays out based on the number of 7's the player receives in his or her first three cards. Payouts begin with a player receiving one seven in the first two cards.
The progressive jackpot is for three suited sevens. Different casinos could designate that a player must have a certain suit to win the grand prize. Bally's, for example, pays 100% of the progressive only if the player has three seven's of diamonds.
Here's the Blazing 7's payout chart for Bally's:
One seven 2-1
Two sevens 25-1
Three sevens 200-1
Three colored sevens: 500-1
Three suited sevens: 10% of the jackpot
Three sevens in diamonds: 100% of the jackpot
Wizard of Odds has a breakdown of the odds and probability of winning a Blazing 7's side bet. The house edge for this bet is approximately 5%-6%.
Blazing 7's can be found at traditional live dealer blackjack games inside of casinos. It's also available on some versions of electronic table games. For example, San Manuel Casino in CA introduced a Blazing 7's stadium gaming installation a couple of years ago. The side bet can also be found at blackjack games in some online casinos.
Bally's blackjack games
Bally's, and all Caesars Entertainment casinos on the Vegas Strip, has very playable blackjack for the area. Earlier this year we had an overview of Caesars 3:2 Blackjack In Las Vegas.
At the time Bally's had seven 3:2 blackjack games under $25. The rules for the best blackjack games at Bally's are:
Eight (8) deck shoe
Double on any first two cards
Double after split
Player may surrender
Dealer hits on soft 17
No resplitting aces
These blackjack rules give the Bally's blackjack games a respectable house edge of 0.57. You'll find better blackjack games around Las Vegas but there aren't many better options on the Vegas Strip for under $25 per hand.
The minimum wager for this game is usually $15. The Blazing 7's side bet is another $5 per hand.