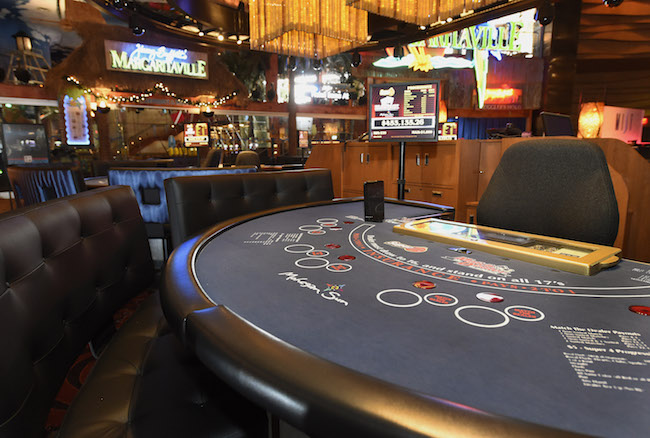 Mohegan Sun recently added a new blackjack area in the Casino of the Wind called the Duo Blackjack Lounge. This new lounge is open on Friday and Saturday night from 8 pm until close. The Duo Blackjack Lounge is described as "an ultra-hip blackjack lounge charged with a high-energy vibe and the hottest DJ-spun tunes."
Gaming lounges aren't a new concept in casinos. What differentiates the Duo Blackjack Lounge are the plush double bench seating. Each large bench seat is intended for up to two people. You may have seen similar long bench seats intended for two people at some slot machines on the casino floor over the past couple of years. This is the first time the idea has been offered for table games. These tables in the Duo Blackjack Lounge have 4 chairs seating up to 8 people.
The bench seats are intended for two friends or couples to sit together and play blackjack. The minimum bet at these tables is $25 and there's a "Match The Dealer" side bet. The Casino of the Wind at Mohegan Sun is already home to Jimmy Buffett's Margaritaville and MIST night club. There's a good chance that people heading to either of these venues in the casinos are going in groups.
In addition to the plush double benches, the Duo Blackjack Lounge features tableside hand-crafted cocktails and a DJ pumpin' up the jams. The idea of the Duo Blackjack Lounge seems as though it fits this part of Mohegan Sun. Groups of friends and couples usually prefer gambling together. Add a little booze from the neighboring bars and clubs and you have a concept that could work on this scale.
Like most additions in casinos today, this kind of upbeat gaming lounge with group seating is intended for the recreational blackjack player. These blackjack players are gambling for entertainment. While they want to win, gambling isn't the only thing that matters in the experience. Blackjack is just one part of the entertainment for the night along with drinks, music, and friends.
Each of the elements added in this lounge, including the double benches, will distract players from making the correct plays. This kind of gaming lounge can be more profitable for the casino than just a few more tables because players aren't entirely focused on the game. The majority of recreational blackjack players don't know basic strategy and everything in this lounge can impair the limited skill. Having said that, recreational blackjack players could welcome the additions to the blackjack game that add more fun to the evening.
Much like party pits and other gaming lounges, the Duo Blackjack Lounge was created to get new players. Experienced and advantage blackjack players will likely want to avoid the Duo Blackjack Lounge. Distractions are the last thing advantage gamblers want as part of their gambling experience.