Jack Casino in Cincinnati, OH just made a new variation of blackjack available. The new game is called Jack Jack. You heard me right, this is Jack Jack blackjack only at Jack Casino in Cincinnati, OH. Upon release, the game wasn't available at other casinos including Jack Casino in Cleveland, OH.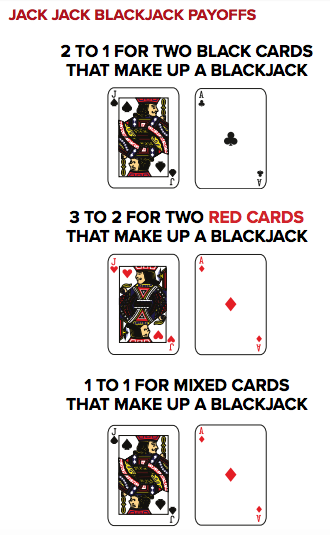 The basic game of Jack Jack is similar to traditional blackjack where the player is trying to finish closer to 21 than the dealer to 21 without going over the total. However, the game gets interesting when the player is dealt a natural blackjack. The game pays differently than other variations of blackjack when the player is dealt an Ace with a card valued at 10 (10, King, Queen, Jack).
Here's a look at the blackjack payouts when the player is dealt a natural:
– Two Black Cards: Paid 2 to 1
– Two Red Cards: Paid 3 to 2
– Mixed Cards (1 red and 1 black): Paid 1:1
If both the player and dealer have a natural blackjack the bet will be a push and the player will keep their original bet. The other rules are similar to traditional blackjack.
Players may split any pair three times for a total of four hands on shoe games. Pairs may only be split once on Single and Double Deck blackjack games at Jack Casinos. Aces may only be split once. Players can double down on each hand of a shoe game. You may also double after splitting hands if the game is dealt from a shoe. This changes the house edge by 0.30% in your favor. Single and Double Deck versions of all blackjack games may have different rules so keep your eyes peeled.
That's it. Jack Jack is a fairly simple blackjack variant. There's really only one change from the traditional game. Keep your basic blackjack strategy card nearby because the gameplay is the same as traditional blackjack after the cards are dealt.
The concept is novel and just landed in its first casino. Like with other blackjack variations we'll be able to see how popular the game is if it spreads beyond Jack Casino in Cincinnati.