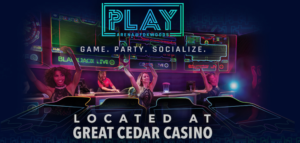 Not all casino guests have the same habits. For example, Stadium Gaming doesn't work at every casino. However, when the electronic table games work – they can really work. Foxwoods Resort Casino in Connecticut is a great example of a property where stadium gaming is thriving.
Almost two years ago, Foxwoods introduced the Rainmaker Casino with a stadium gaming installation from NOVOMATIC. This was the second mass electronic table gaming area at the casino and there were plans for more. Well, it took a little longer than expected but Foxwoods is at it again.
Interblock Installations At Foxwoods
The new stadium gaming installation is also in the Rainmaker casino at Foxwoods. The most recent addition to the casino is a Diamond dealer assist stadium from Interblock. The expansion takes the product portfolio of Interblock to 85 seats between the two stadiums at the property.
Foxwoods was one of the first properties in North America to install Interblock's Pulse Arena in 2016. Guests at Foxwoods may know this area as the PLAY Arena in the Great Cedar Casino.
PLAY Arena (and Pulse Arena's all around the country) is a technological experience that delivers a hybrid of entertainment, gambling, and social interaction. As you can see in the video above, Play Arena has an immersive video wall that displays games in play, statistics, and game history.
New Interblock technology provides players with the ability to play up to four games simultaneously from a single play station within the stadium including live Multi-hand Blackjack games, Roulette, Baccarat and video Craps and Sic Bo.
New Stadium Gaming At Foxwoods
Customers enjoy PLAY Arena so much that Foxwoods decided to add an additional Interblock Stadium to their casino floor. In addition to PLAY Arena in the Great Cedar Casino, the property will now feature Diamond dealer assist stadiums in both their Rainmaker Casino and Fox Tower Casino.
The stadiums consist of 30 and 24 seats respectively and feature live Multi-hand Blackjack, Dual-shoe Baccarat and Roulette. Interblock stadium gaming installations allow operators to easily transform a dealer assisted stadium into a fully automated stadium. This ensures that the section of the casino floor is always active and able to generate constant revenue even when live dealers are not present.
The live dealer tables are equipped with a camera that allows players to view the live gameplay from their play station screen in addition to the large LCD displays above. Gaming stations are also equipped with brilliant high-definition graphics offering side bets, trends, game rules and a strategy card for Blackjack.
A Few Words From Foxwoods
Wayne Theiss, Vice President Table Games at Foxwoods Resort Casino said "We are very excited about our continued partnership with Interblock. Our recently expanded footprint is a testament to the tremendously successful performance of their units on our floor."
The CEO of Interblock, John Connelly, added "The executive management team at Foxwoods Resort Casino has always strived to be first when it comes to innovation. The introduction of a third stadium within the same casino is an indication of the financial benefits Foxwoods has realized."
Not only are Stadium Games popular with casino guests but they're profitable for the casino.