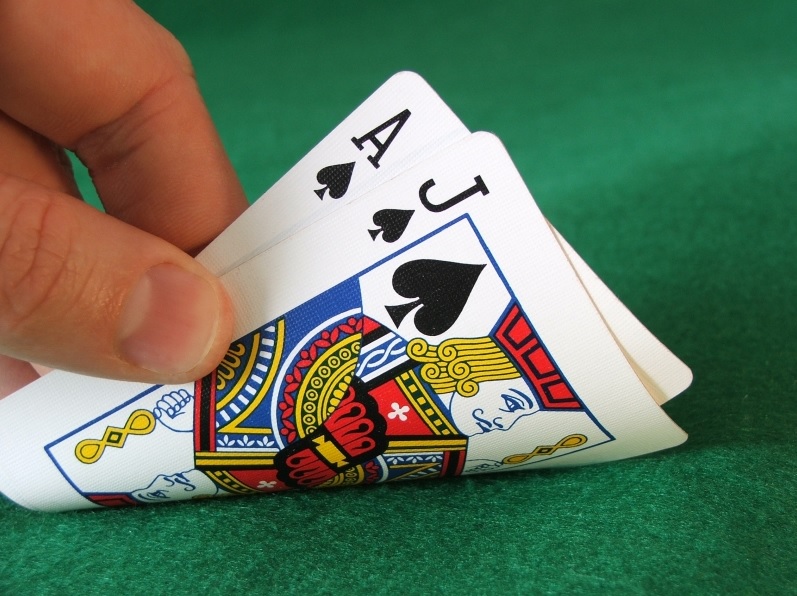 "We've been in Vegas for a whole day and haven't played a single hand of blackjack" the tourist exclaimed. Trips to Las Vegas get that way as life changes. Vacation priorities and preferences change over the years. So has the game of blackjack. It happens to all of us.
When a tourist reaches the point in a Vegas vacation where they MUST PLAY BLACKJACK, they'll just sit down at the closest table that fits their bankroll regardless of the blackjack rules.
There was a time where there was just one type of blackjack game dealt in casinos. It may not feel like it, but blackjack has been getting more complicated for the past 5-10 years. Today, there are so many different ways to play blackjack in Las Vegas. Today we'll look at blackjack games played with a human dealer since that's how most people enjoy blackjack in a casino.
Live Dealer Games
Part of the appeal for many recreational blackjack players is the social factor. It's fun to play blackjack with other people. However, not all blackjack games are the same. Here are some of the different types of live dealer blackjack games you'll find in a casino.
Shoe Blackjack – This is the type of live blackjack game that will be familiar with most people. Dealing from a shoe is how most people learn to play blackjack around the country. There are more blackjack games in a casino that are dealt from a 4-8 deck shoe than any other type.
Pitch Blackjack – This type of dealing a blackjack game is where the dealer holds the deck or decks (single or double deck) and "pitches" the cards to the players. The good news is that fewer decks in play will lower the house edge of the game. Unfortunately, many casinos are now only offering pitch blackjack that pays 6:5 when a player is dealt a natural blackjack. Much like all games, check the rules before sitting down to play. Reminder: one of the best blackjack games in Las Vegas under $25 is the single deck game at El Cortez.
Continuous Shuffle Machines – I don't know anyone who would prefer to play blackjack when the cards are dealt from a continuous shuffle machine than a dealer. The cards are constantly being shuffled by a machine (hence the name). It's difficult to get a feel for the game when playing at a table where the dealer uses a continuous shuffle machine. It's much easier to get in a groove when the cards or dealt from a shoe or pitched. While many people don't like this kind of game, mathematically it doesn't change the house edge much.
Payout For Natural Blackjack
The rules of blackjack are continuously changing. So are how casinos pay a player when they're dealt a natural blackjack. There are plenty of rules to look out for to find the game with the lowest house edge. There's one rule that really increases the house edge for the casino. The payout for being dealt a natural blackjack can make a game unplayable – unless it's offered for $1 per hand. Even then, it's still not a smart bet but there are plenty that would rather play a game for $1 just to sit back and enjoy the complimentary drinks.
In order of best to worst, here are the payouts you'll receive for a natural blackjack.
Best: 3:2 – Blackjack ays $15 on a $10 wager.
Worse: 6:5 – Blackjack ays $12 on a $10 wager.
Worst: Even – Blackjack ays $10 on a $10 wager.
It's always wise to look for the best blackjack rules even if you're jonesin' to get some hands in. The better the return on a natural blackjack, the longer you should be able to play. The reason you're craving blackjack is that you like the game so you might as well get the best bang for your buck.
Blackjack Variants
Sometimes the limits of the best blackjack games in the casino are a bit high but you still want to play something similar to the game you love. That's where blackjack variants come in handy. They may not be "normal" blackjack game but they might be close enough. These games often have a lower minimum bet so you can at least play some kind of blackjack.
Here are a few blackjack variants that you should find in most Las Vegas casinos.
There are always new blackjack games introduced in casinos. Many of them haven't lasted beyond a field trial like Blackjack Switch or Free Bet Blackjack. These are fun to try because they might not be around for long. Even if they don't play, you can always say that you tried something rare.