The free blackjack app is very easy to play. It works just like an online blackjack casino game.  In case you forgot, read our how to play blackjack tutorial. The best part is that you are not gambling. You are playing blackjack against others to reach higher levels and reward tiers.
Players start out with 10,000 coins. Levels are obtained based on the amount wagered. A player that wagers 1,000 chips reaches level two and receives a chip prize. The gap between levels increases with each tier.
Play Free Blackjack App on all of your devices:



Blackjack Badges
In addition to free blackjack app levels, there are also badges based on eight common blackjack outcomes:
Split 5 – Win all hands in a split five time
Double Down 5 – Win five double down hands
Natural Blackjack – Win 10 natural dealt blackjack
Split Aces – Win both hands after splitting aces
21 on 5 – Receive a hand total of 21 on five cards
Blackjack 50 – Dealt 50 blackjacks
Heating Up – Awarded after winning at least five hands in a row
Wow it's Hot – Awarded after winning at least 10 hands in a row
You are on Fire – Awarded after winning at least 15 hands in a row
Is this real life? – Awarded after winning at least 20 hands in a row
Novice – 100 hands won
Advanced – 1,000 hands won
Semi-Pro – 5,000 hands won
Pro – 10,000 hands won
Average Joe – Average bet of 500 over past 50 hands
Up & Coming – Average bet of 5,000 over past 50 hands
Getting Serious – Average bet of 10,000 over past 50 hands
High Roller – Average bet of 50,000 over past 50 hands
#Baller – Average bet of 100,000 over past 50 hands
Chance on 20 – Hit on 20, receive an ace, and not push
The Free Blackjack App works on Android, iOS including iPhone & iPad and all major web browsers. Anyone may use the free blackjack app. Most browsers will save the results in the short term through cookies. Players that wish to have results tracked over the long term or participate in the leaderboards must connect the Free Blackjack App to Facebook. Players that connect the Free Blackjack App to their Facebook account will automatically receive 10,000 free coins.
Blackjack App Screenshots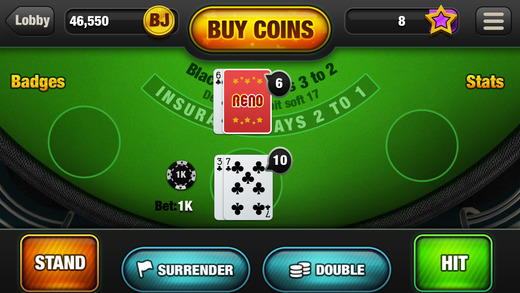 Players start in Reno with bet limits of 100-1,000 chips. Players that make it to Level 6 will unlock Philadelphia. Bet limits increase here to 500-5,000. Level 11 unlocks sunny San Diego, where bet limits are 1,000-7,500. Level 21 unlocks Denver, where bet limits are 7,500-10,000. Then off to Chicago, the windy city when players hit Level 26 and can bet 10,000-100,000!  Players that make it to 36 can try their luck at New Orleans where limits are raised to 15,000-150,000. When a player gets to Level 46 they unlock the boardwalk in Atlantic City where the bets are 20,000-200,000. Still with us? Okay, next stop is the high roller table in Las Vegas where players over 60 can play for 25,000 – 250,000! Players can return to lower levels if the chip count runs too low or reload for as little as $1.99 in the Free Blackjack App store.
To start a hand on the Free Blackjack App, click an unlocked city. All players start at Reno. Next, click on the chip denominations at the bottom of the table. Once the desired bet is displayed, click the bet button to the right.
Two cards are then dealt to the player and dealer. The dealer will only show one of his cards. If the dealer's door card is an ace, it will ask if the player would like insurance. Insurance pays 2-1 if the dealer has a blackjack. The dealer will then peak to see if he has a blackjack. The dealer will also peak with a ten-value card showing, but will not offer insurance. If the dealer has blackjack, the hand is over. The player will push with a blackjack and all other hands lose.
If the dealer does not have blackjack, the hand proceeds as normal. A player that is dealt a blackjack is paid 3-2 immediately. Otherwise, the player has several options:
Hit – A player that hits is taking a card in an attempt to improve the hand. A player may hit cards one at a time until the hand busts.
Stand – A player that is satisfied with the hand's point value stands. This means that no cards are drawn.
Split – Split is available when a pair is dealt. To split, a player must make an equal-sized bet to the original wager. If another pair is drawn, the hand may be resplit, except for aces. A max three split hands are allowed. The Free Blackjack App does not allow splitting ten-value cards that do not pair. Players may double down after splitting.
Double Down – A player that would like to double his bet and receive just one card may double down. Once this action is taken, there are no more moves for a player. The card must be kept and the double bet must remain on the table.
Surrender – A player that does not like the start hand in relation to the dealer's up card may surrender. This is where a player gives the dealer half the original wager and folds.